Been a while since I posted here about my travlrmap web app, I've been out of town the whole of February – first to Config Management Camp and then on holiday to Spain and Andorra.
I released version 1.5.0 last night which brought a fair few tweaks and changes like updating to latest Bootstrap, improved Ruby 1.9.3 UTF-8 support, give it a visual spruce up using the Map Icons Collection and gallery support.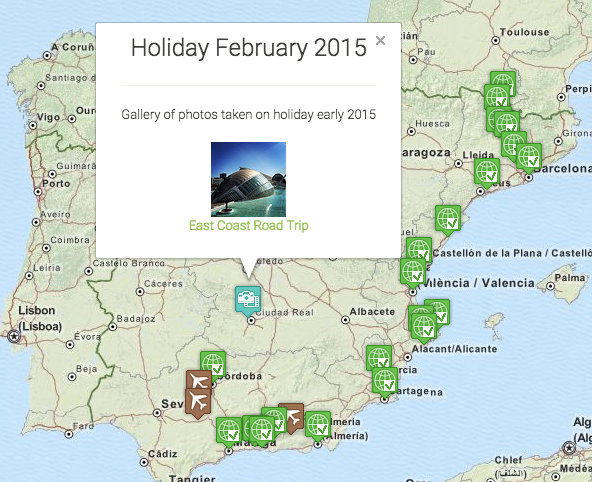 I take a lot of photos and of course often these photos coincide with travels. I wanted to make it easy to put my travels and photos on the same map so have started adding a gallery ability to the map app. For now it's very simplistic, it makes a point with a custom HTML template that just opens a new tab to the Flickr slideshow feature. This is not what I am after exactly, ideally when you click view gallery it would just open a overlay above the map and show the gallery with escape to close – that would take you right back to the map. There re some bootstrap plugins for this but they all seem to have some pain points so that's not done now.
Today there's only Flickr support and a gallery takes a spec like :gallery: flickr,user=ripienaar,set=12345 and from there it renders the Flickr set. Once I get the style of popup gallery figured out I'll make that pluggable through gems so other photo gallery tools can be supported with plugins.
As you can see from above the trip to Spain was a Road Trip, I kept GPX tracks of almost the entire trip and will be adding support to show those on the map and render them. Again they'll appear as a point just like galleries and clicking on them will show their details like a map view of the route and stats. This should be the aim for the 1.6.0 release hopefully.